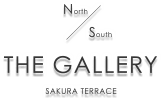 C

ONCEPT

SAKURA TERRACE THE GALLERY with North and South Wings,
established in March 2015 as a new type hotel.
Suggesting "New style of traveling Kyoto", slow but exciting.
Modern art can be found in many places with different materials such as white façade with its color motif, the warmth of wooden structures,and rustling greenery, natural stone for an industrial look, basin filled with water and flames in the fire pit will inspire those guests of the ancient city, Kyoto.
The public space, which allow you to use in many ways, will let you have your own slow and relaxing time.

G

UEST ROOMS
The North wing has the theme of wood grain textures in its relaxing atmosphere. The South wing has unique atmosphere that is a fusion of color and art.

R

ESTAURANT & BAR
Breakfast buffet has over 40 kinds of selections with rice directly sent from the farm, carefully chosen egg entrees as the perfect combination with this rice, fresh-baked bread and more.
In the restaurant, house-roasted coffee, tea and flavored tea are available from 10:00 to 17:30.
From 17:00, you'll be able to make a choice from light meal to full dinner course from our menu.
We hope you'll enjoy the seasonal menu at our Restaurant & Bar.

H

OTEL SERVICE
Cloak service before and after your check-in/out, welcome drink and free café, free Wi-Fi, free CS broadcast, self-laundry, safe-deposit box and other are available.

F

ACILITIES
Public bath with sauna for ladies and gentlemen in separate rooms, gym with treadmills, lounge and more.